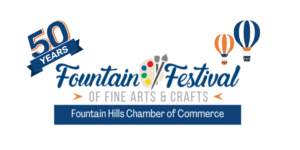 Application Window:
September 1st - December 1st
Jury Meets:
December 1st - December 15th
Invitations to follow
Application Fee: $35
Artist Membership: $225/Year
Booth Fee: $500 for 10x10 booth
Event Dates: 
February 23-25th, 2024
Times:
Early setup: Begins Thursday at 5pm
Friday & Saturday: 10am-5pm
Sunday: 10am-4pm
Location: 
Downtown Fountain Hills
Avenue of the Fountains & Saguaro Blvd
Application Requirements:
3 Artwork Photos
1 "Artist at Work" Photo
1 Booth Photo
For Questions contact: hannah@fhchamber.com
✓ RV Parking / Dry-Camping Available
✓ Juried Art Show
✓Artist Reception
Permitted Age of Artists - All participants must be 18 years or older. 
Artist Must Be Present - The applicant must be present at their booth during the whole of the event. The Fountain Festival offers "Purple People" booth sitters who can cover artist booths for bathroom, lunch, etc. breaks, however, representatives may not attend in place of the artist. This is intended to give our audience an opportunity to engage with the artists themselves, which creates a greater connection to the works. 
Artist Membership: Invited artists for the Fountain Festival of Fine Arts & Crafts will be required to become an artist member of the Fountain Hills Chamber of Commerce. This provides us the opportunity to display your business in our business directory as well as your website / photos / etc. built into your profile year round. The Artist membership is an annual fee of $225 per year and will be for a full year (example: if you pay in June 2023, your membership will not be due again until June 2024!). 
Collaborators - All collaborators must be listed in the artist application. By signing this application, each artist attests that they have direct involvement in the creation of the work at their booths. If accepted, artists understand that only work created by the artists and the collaborators listed will be permitted in their booth. 
Original Work - All work - in every category - must be the original work produced by the exhibiting artist. No "buy/sell," mass-produced component assembly, or other art that is not personally created and produced by the applying artist is permitted. Work which has been produced with commercially-acquired kits, molds, patterns, plans, prefabricated forms or other commercial methods is not permitted. If the artwork is AI created, the AI program has to have been designed/coded by the artist. The Fountain Festival of Fine Arts & Crafts has the right to investigate the origins of all artwork presented. If any artwork is found to be not original of the applicant's creation, the Fountain Festival of Fine Arts & Crafts has the right to refuse participation. 
Refunds - There are no refunds for the Fountain Festival of Fine Arts & Crafts.
Categorization - Artists are responsible for accurately categorizing their work in their application. If you are applying for more than one category, you may submit a separate application. Please note that 60% or more of each booth must include the same category of artwork. Artists will receive a single invitation to include each application with the understanding that a secondary booth will be required for additional categories if the items will be equally displayed. If an artist has not been juried in for additional categories but displays other art categories in their booth, the Fountain Festival of Fine Arts & Crafts will require that any items outside of the original accepted category be removed. 
Artist Reception: The Fountain Festival of Fine Arts & Crafts is proud to offer an Artist Reception on the Saturday of the Event beginning at 5:30pm. The Artist Reception offers free food and drink hosted by one of our Festival Concessionaires as well as the local VFW chapter. 
Rain or Shine Event - The Fountain Festival of Fine Arts & Crafts is a rain or shine event. All artists must be present at their booths at all times, with the only exceptions being during breaks provided by the "Purple People" volunteers, whose contact information is included in your booth sign provided the first morning of the event. 
Liability Disclaimer - Applicants must comply with all Festival, municipal and state rules, regulations and policies. It is the applicants' responsibility to familiarize themselves with any applicable rules, laws, or regulations. Any noncompliance will cause elimination and the applicant may be immediately removed from the Festival with no refund of fees or compensation for expenditures. Applicants also may be barred from acceptance to future Fountain Festival events. The Fountain Festival of Fine Arts & Crafts, in their sole discretion, may reserve the right to refuse participation by any applicant, entertainer, food vendor of any other such participant for any reason. The Fountain Hills Chamber of Commerce is not liable for refunds or any other liabilities whatsoever for applicant's failure to obey the rules and regulations or due to the unstable condition of the area in which the Festival is produced, caused by, but not limited to, weather, fire or other calamity, any act of nature, public enemy, strikes, statutes, ordinances of any legal authority or any other cause beyond DTF, Inc.'s control. By engaging in participation, all applicants release and hold harmless the Fountain Festival of Fine Arts & Crafts, Fountain Hills Chamber of Commerce, Town of Fountain Hills, Maricopa County, the State of Arizona, and all event sponsors from any and all liability, as outlined in the rules and regulations.
Taxes – It is the responsibility of the artist to secure a TPT tax license in Arizona as well as a Fountain Hills Business License, to collect tax during the event, and to remit taxes. Information for obtaining these licenses will be provided to invited artists. If a TPT license and Fountain Hills Business License are not acquired by the day of the event, artists will not be permitted to set up and are at risk of not being permitted to attend future events.