Artist/Vendor Information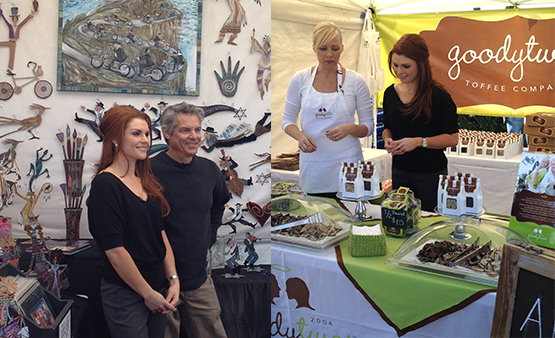 Both Fountain Festivals of Fine Art & Crafts (Spring & Fall) have become two of the Southwest's most iconic art fairs.
They are truly the meeting place of talented artists and highly skilled craftsmen from around the world. You'll probably run into some old friends, and make new friends. It's a juried show. That means if your work is selected, you rank among the elite. Not everyone who enters gets an invitation. So you'll be in good company at show time. The better the competition in every category, the better for you as an artist. It's an exhibit where you can be proud to show your work. Not to mention the 200,000+ people who attend every year. Most of them are looking to buy.
Please see the FAQ information below to find out some more information about the next Fountain Festival for which artists may apply!
The Fountain Festival of Fine Arts & Crafts is a juried art festival. The size and scope of both fairs still amazes even our most seasoned artists. We know both Fountain Festivals will exceed your expectations. An endless sea of potential buyers flows throughout Fountain Hills for three days. It's wonderful. It's inspiring. It's awesome. And at times, it's slightly overwhelming. In a good way!
The weather is great. But the show still goes on even if it does rain. (But really, what's the chance of that?)
Now, it's true that artists never stop working. But there are lots of food vendors and restaurants. So, if you get hungry, food choices abound. For breakfast, lunch or even dinner. Our terrific local restaurants, food vendors and even places to get snacks. So much for the starving artist syndrome. In addition, our very own Purple People will be available to sit your booth while you satisfy your hunger.
Work on site if you'd like. Our residents and guests love to see our artists in action. It's a wonderful way to attract attention. Besides, you won't have any downtime and maybe you'll sell what you create on the spot. Incentive!
So, just think about it. What could be better than being in Fountain Hills at a Fountain Festival of Fine Arts & Crafts on a beautiful day in sunny Arizona, showing work your proud of, doing a little work on site, meeting lots of interesting people and making money by selling them your work? Hmmm. Sign me up!!!
The Fountain Festival attendees love to see new artists, as well, they come back for their favorite, returning artists year after year! Festival lovers call the Fountain Hills Chamber all year long looking for artists they talked to or bought from during previous shows. This was our motivation to create a membership that would allow the Chamber to do what they do best – support businesses – big or small – that chose our community of Fountain Hills to bring their business. You know you have many choices and many of you travel around the nation selling your art and we appreciate you choosing Fountain Hills as one of your destinations for business!
Beginning in May 2023, the Fountain Hills Chamber will offer an annual Artist Chamber Membership. This membership will ensure artists' contact, website, application photos and more can be viewed year round in the business directory listing. Attendees will be able to find their favorite Fountain Festival artists any time they chose. When application open for future shows, our artist members will be the first to know! We can't wait to show you more and support our artists year round!
MORE INFORMATION COMING SOON! Join our Fountain Festival Newsletter group by clicking the link below to stay up to date with the Fountain Festival and Chamber staff.
Applications for the upcoming November Fountain Festival will be found here on our direct website.