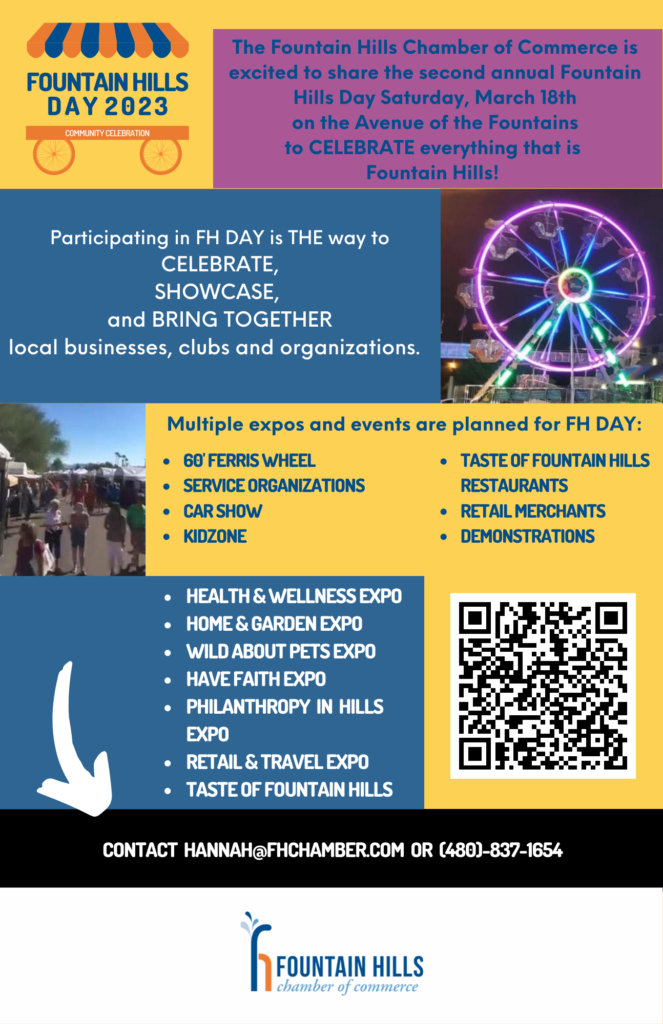 FOUNTAIN HILLS DAY ON THE AVE
A Celebration of all that is Fountain Hills
Saturday March 18, 2023
10:00 AM - 2:00 PM 
Located on the Avenue of the Fountains
The FH Chamber is PROUD and EXCITED to bring th annual Fountain Hills Day to the Avenue!
Fountain Hills Day will combines not only local businesses - but also local clubs, organizations, hobbies, food and more!
This will be a family-friendly and FUN event that will feature a business expo, local food tastings, music, and activities for kids. There will be something for everyone.
All businesses and members of the FH Chamber of Commerce are invited to purchase a "booth" for the event, where they can set up materials, coupons and/or giveaways to encourage people to stop on by and learn more about you and your business. This is the perfect way to not only market your business, but to meet local Fountain Hills residents, visitors, and fellow business professionals in a fun setting.
In addition to the business expo, Fountain Hills Day will feature fun children's activities with some of Fountain Hills' favorite organizations.
The local Fountain Hills Foodie will have their time to shine, as local eateries are invited to set up shop at the event for attendees to experience "A Taste of Fountain Hills". You definitely won't leave Fountain Hills Day hungry, and you might just find your new favorite dinner spot!
Sponsorships are currently available for this event.  CLICK HERE for more information on sponsorships.  Or click Register to Participate to sign up today!
Fees/Admission
FREE for attendees
Business Booth: 10'x10' booth for FH Chamber members starting at $200 (registration is REQUIRED)
Food Vendors Booth for FH Chamber members starts at $250
Click the Registration button to reserve your space NOW!
Contact Information
Questions? Contact  Hannah Toth, Events & Marketing Assistant at
480-837-1654
Send Email