August 22, 2022 Member Submission
The Inspiration Academy & 4-H Students Need Your Support For Their Upcoming Leadership Trip to Baltimore, Gettysburg & Washington D.C.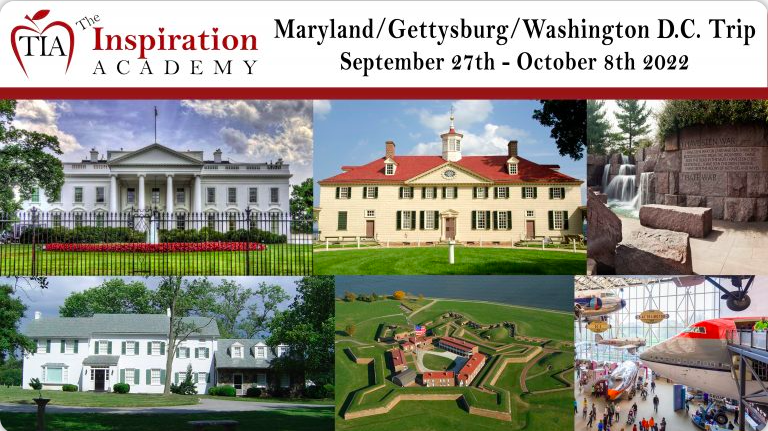 The middle school students from The Inspiration Academy & 4-H Empowered To Make a Difference Club have a unique opportunity for an amazing leadership trip, but they need your help to be able to attend. Please contact Lisa Ristuccia if you can help sponsor a student to attend the trip or if you can provide Southwest Airline miles to cover a student's flight.
Lisa Ristuccia can be reached by email at Lisa@TheInspirationAcademy.org or by text/phone at 480-294-0193.
Learn More About the Leadership Trip >>>HERE >>>
About The Inspiration Academy:
The Inspiration Academy is a new K-12 private leadership school in Fountain Hills. It was founded to provide a place for students who got displaced when Fountain Hills Charter School closed. Many of the students are low-income and cannot attend the leadership field trip to Baltimore, Gettysburg, and Washington D.C. without financial assistance.
The Inspiration Academy utilizes a "Community Campus" at various locations here in beautiful Fountain Hills, AZ. Mondays, Wednesdays, and Fridays are at Shepherd of the Hills Lutheran Church. Tuesdays and Thursdays are at the community center, library, community garden, and
The River of Time Museum. The parks, Boys & Girls Club, the Chamber of Commerce, and other locations will be part of the community campus as well.
At The Inspiration Academy, the traditional subjects of reading, writing, science, social studies, and math are taught through interdisciplinary thematic units, collaborative hands-on projects, and field trips. Creativity, curiosity, and outside-the-box thinking are encouraged, and self-confidence is built as the students engage and persevere through challenging problem-based projects.
The Inspiration Academy provides a nurturing environment with a growth mindset where students are supported as they set goals and hold high expectations of themselves. Classes are taught in a multi-age collaborative environment that facilitates social-emotional skills, differentiated instruction, mentorship opportunities, and leadership development. The students make real-world connections as they actively engage in the community through volunteering and service-learning projects. In The Inspiration Academy's Community Modules, the students are connected to local professionals who share their expertise and passions to enhance the curriculum and teach the students about health, nutrition, gardening, culinary arts, character development, economics, environmental education, performing arts, and more.
Through the school's personalized, holistic approach, students experience transformational learning where they are inspired and empowered to think critically, believe in their abilities, and make a positive difference in the world.
You can learn more about The Inspiration Academy by visiting:
https://theinspirationacademy.org/
About 4-H Empowered To Make a Difference Club:
The Inspiration Academy is partnering with 4-H to bring meaningful, hands-on education to the students. 4-H projects are incorporated into the school day, as well as through an after-school program. Head, Heart, Hands, and Health are the four Hs in 4-H, and they are the four values 4-H members work on through fun and engaging programs.
4-H empowers young people to be true leaders. True leaders are young people who have confidence; know how to work well with others; can endure through challenges; and will stick with a job until it gets done.
4-H is the largest youth-serving organization in the world, with programs in all 50 states and more than 80 countries world-wide, helping to inspire the next generation of leaders, inventors, entrepreneurs, innovators, and problem solvers.
There are multiple project areas within 4-H. Our club will focus a lot on STEM, Environmental Education, Community Service, Student Leadership, Cultural Studies, Healthy Living, Outdoor Exploration, and Visual & Performing Art.
The 4-H Empowered To Make a Difference Club of Fountain Hills is a local branch of the National 4-H program. It is a 501c3 non-profit that serves K-12 students within The Inspiration Academy and in the Fountain Hills and surrounding areas.