About The Fountain Festivals of Fine Arts and Crafts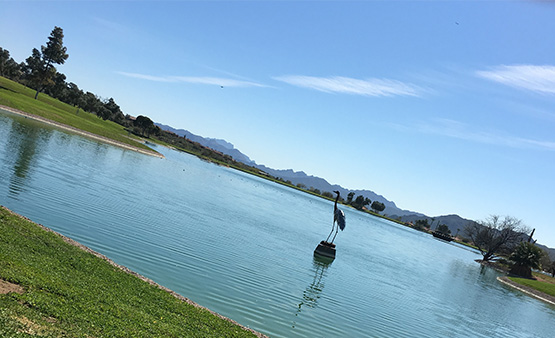 It's one of the "World's Highest Fountains" and sends a snow-white jet stream of water 560 feet into the blue desert sky. Water from the fountain bursts into the air fifteen times a day. Every day since 1971.
While people come to Fountain Hills to see the fountain, they also come because of the art. The creativity. The culture. The music festival. The public art walk. The theater. The River of Time Museum. Great restaurants. Maybe even the hiking, biking, the parks, picnics exploring the Fort McDowell Mountain preserve and our amazing golf courses. Fountain Hills is a wonderful area to explore. There's always something happening.
Both Fountain Festivals of Fine Arts & Crafts (Spring & Fall) are produced by the Fountain Hills Chamber of Commerce. The Fountain Hills Chamber of Commerce and its members are the driving force behind our thriving business community. The Chamber of Commerce promotes and supports local businesses and nonprofit organizations. Because of everyone's participation and involvement, Fountain Hills festivals and events are successful and impactful.
We believe once you visit, shop and explore Fountain Hills, you'll definitely come back.  We'll make you feel right at home as part of our unique community.
WHO WE ARE
Fountain Hills is the "oasis in the desert".  A vibrant, creative community tucked away just east of Scottsdale with some of the most spectacular mountain views in all of Arizona. Not to forget our famous fountain. Folks certainly do love our fountain and come from everywhere to see it.
THE FOUNT OF CULTURE
THE FOUNTAIN FESTIVAL OF FINE ARTS & CRAFTS
The inaugural Fountain Hills Festival of Fine Arts & Crafts was held in 1974. In those days, getting enough artists for a group show was a big deal. But 60 artists turned out. It was a really good sign. People loved the show in its early days. Every year since 1974, it's been interesting, motivating and now has become a culturally iconic in Arizona. Every year more and more people are attend and exhibit.
Today, The Fountain Festival of Fine Arts & Crafts is one of the largest arts and crafts events in the southwest. Over 200,000 people attend each year! There are hundreds of booths for artist exhibitors. You'll find exhibiting artists showing original fine works of art in every price range. In every medium. From sculptures to paintings, hand-made clothing, jewelry and crafts. You'll be amazed at the diversity of art forms. You'll certainly see pieces that appeal to your taste. Some you might just decide to take home with you. Even the fine art of food with wonderful restaurants and local food is on exhibit and display. For you to buy and eat of course. And what Festival of Fine Arts & Crafts would be complete without artists providing live music? If you need to take a moment to ponder your purchases, there are comfortable shaded seating areas.
The beauty of Fountain Hills and the beauty of art make the Fountain Festival of Fine Arts & Crafts a perfect day in Fountain Hills.